Salwar kameez is one of the leading and top most favorite attire of each and every lady. Not in India but women residing in foreign countries too prefer to wear salwar suits on a casual and occasional basis.
The outfit is highly favorable due to its comfortable and breathable characteristics. It is even popular due to numerous pattern choices and admiring designs. You can choose any of the beautiful salwar suit designs and flaunt your ethnic look wherever you go.
You get an option to choose the ready to wear stitched one or can opt for the unstitched one and get it customized by yourself. Women usually prefer the unstitched dress material as they can customize it as per their choice and patterns.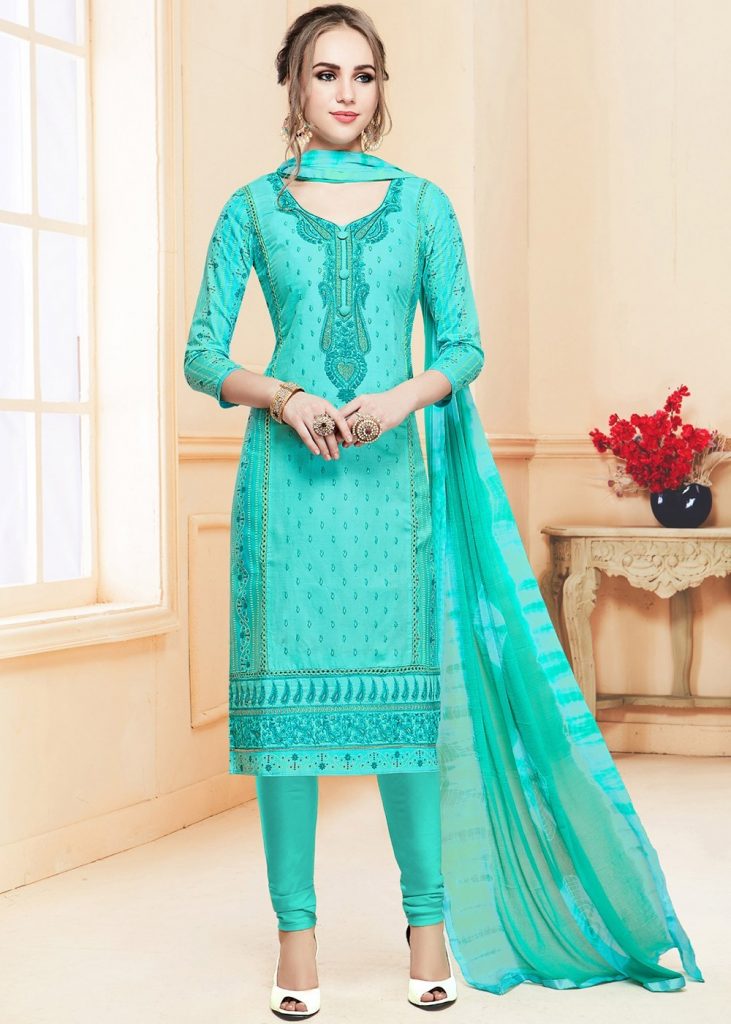 Why is choosing Unstitched Dress Material more Favorable?
Choosing an unstitched dress material is more favorable as you can get the proper measurement and fitting by getting it tailored in the eligible pattern. Sometimes you don't get the desired pattern and sometimes the desired color but if you choose this one then you can get an ideal outfit. The sleeves and neck designs can be converted in the ultimate pattern that you wish and give your outfit an exemplary appeal. It can be converted as per the individual's requirement so that the wearer gets a versatile appearance.
Benefits of Choosing a Dress Material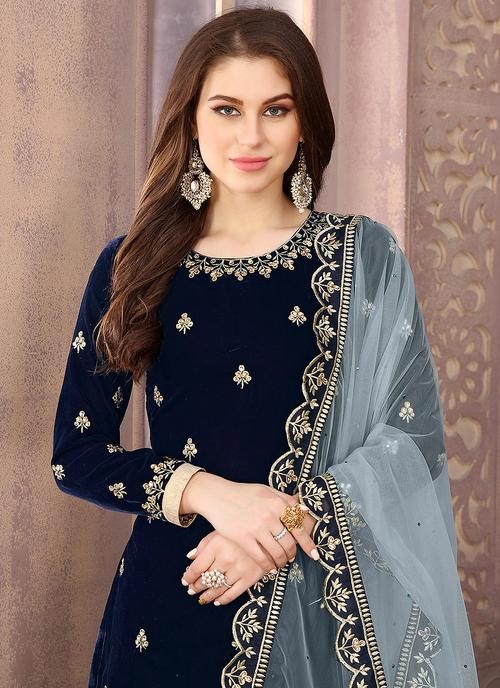 The unstitched dress material provides you with a number of assistance. They are easy to carry and manage while giving a sterling look when worn at festivals and occasions.
Color and Design:
The first and most important thing that a woman cherishes is the color and motifs of the attire. You can choose your favorite color and design to get your dearest attire. The colors that you choose for yourself even depends on your complexion, therefore if you choose it as per your skin tone then it will look even more effective. If you are fair then bright and vibrant colors will look amazing on you or else pastel colors and can be chosen by anyone. So the first thing is that you can get your desired color and motifs.
Fabric Choices: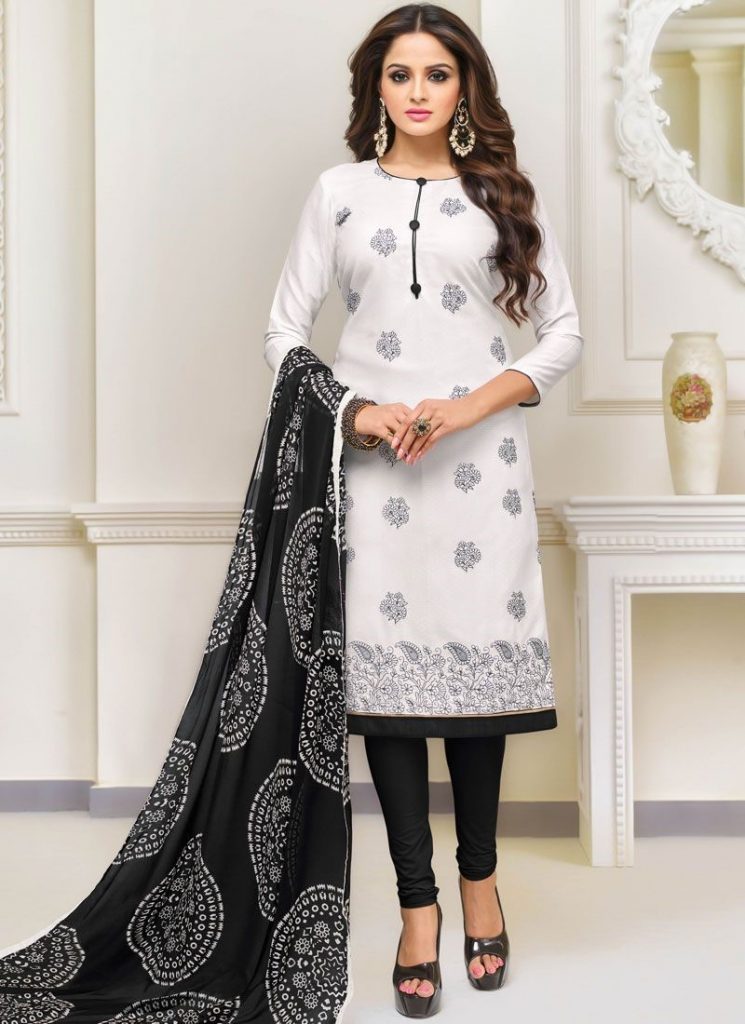 Another thing is that you get the option to choose the preferred fabric. There are a lot of fabrics with different characteristics and features making it favorable for different occasions depending on its intricacy and feel. For casual purpose, the lightweight fabrics such as cotton, linen, muslin and rayon are more favoured. The heavy and shimmery fabrics such as silk, georgette, chiffon and jacquard or velvet are highly favorable for weddings, festivals and special occasions. So choose the appropriate one and get it tailored as per your need.
Desired Pattern:
Sometimes you get the color that you willed for but can't get the adequate pattern or when you get the desired style the color does not satisfy your choice. Therefore a better option is to choose the dress material and customize it in the pattern that you love. It can be a classical patiala or churidar pattern or a stylish pant, dhoti or palazzo pattern that gives you a perfect fashionista look. The combination of a slit kameez and a fitted pant is perfectly favorable for parties and festivals.
Proper Measurement:
One most finest thing about the dress material is that you get a proper fitting and measurement while getting it tailored. When you get a ready made one then you need to customize it as per your length and and body but if you are getting it stitched then you don't need to do any extra efforts as it will be already perfect in length and fitting. The size of tunic or pants can be managed as per your need and requirement so that you get the perfect outfit for yourself. Add the matching dupatta and look perfect in this alluring ethnic wear.
Cost Friendly: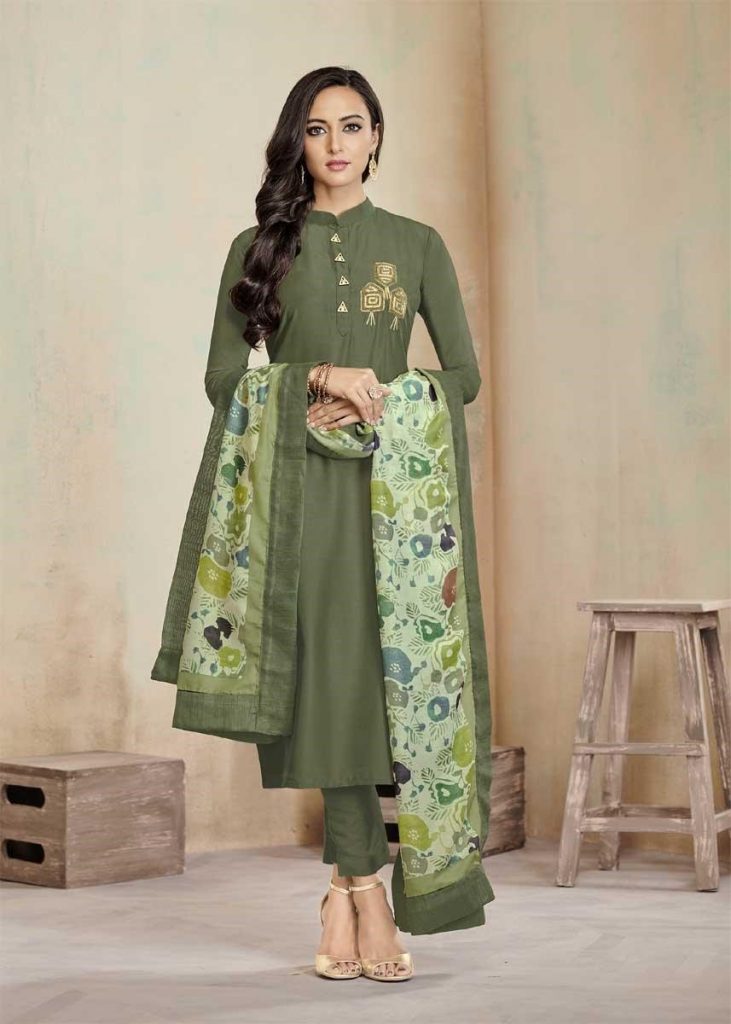 Last but not the least is that the outfit is cost effective. It is more relevant as compared to the stitched one and is affordable by every lady. Either you choose it for casual wear or for occasional wear the cost will be more favorable rather then the ready made one. The beautiful bandhani dress, kutchi dress, printed cotton dress or a vibrant cotton dress you can choose anything from this. Pairing a beautiful dupatta and some pretty accessories will complete your entire look.
Perfect for Every occasion
The outfit is worn on a daily basis and even on occasion depending upon the type of prints and embellishments that it has. The printed and simple ones are worn at family gatherings, lunch dates and are even perfect for workplaces.
For wedding functions and evening parties you can choose the heavily embroidered one having sheer details done with the help of shimmery diamonds, colorful stones, pearls and crystals. Even pretty laces and tassels are used to decorate the attire.
the flared anarkali kameez is usually detailed with broad golden laces at the flare and some intricate embellishments at the upper front of the attire that give it an interesting and attractive appeal. The salwar and pant is even embellished with fewer embroidery at the ankle that makes a perfect match with the kameez and a beautiful dupatta paired with it completes the entire salwar suit look.
Salwar suits are favorable for women of every age. Either you are a college going girl or an office going lady, you can blindly trust your looks while you wear a salwar suit. You can choose the fitted dress for a taller and slimmer appeal or a flared one for a gorgeous look. The prettiest wholesale dress material with amazing prints that includes florals, geometric designs, abstract prints or the adoring traditional motifs makes the outfit look just amazing. So if you are also willing to get a perfect fashionista look then you can choose this exemplary outfit and get a sophisticated look. Just match some adoring accessories with a pair of heels and a perfect hairdo that will help you flaunt your best look.