When it comes to wine cellars, nothing can give a homeowner as much creative freedom and financial liberty as it gives. When you are designing a custom wine cellar in your home, it can be presumed quite obvious that you don't have any type of budget constraints. And that is why creating your cellar in the most luxurious way can be the best way for you.
Those days are long gone when people could have a basement wine cellar of their own. Most of the modern homes and condos don't have basement space that can be used for the wine cellar. If you are lucky and you have one old wine cellar, then it's great. Find a company for wine cellar restoration and you will be good to go. But if you are creating a wine cellar in your home or condo, then you can get inspired by the following designing ideas. Take a look.
Modern Wine Closet
This blends simplicity with style for your wine cellar. When you are designing your wine cellar, the essential factor is that you need to focus on the aesthetics and how it is blending with the overall décor and style of your home. So, if you are living in a modern home with a minimal design theme, a modern wine closet can be the best option for you. Neat and clean, the design itself is very minimal. And if you are choosing light-colored walls and bright lights, then your wine closet can look perfect for your home. If you have space, then keep it close to the bar area of your home. In case, if you have space constraints, this can be your best wine cellar design too.
Secret Stash Design
This is a winner design in case you have a basement space. All you need is a bit of imagination. Instead of the conventional entrance of the basement from the outside of the house or a door, why don't you create a circular doorway from the floor to the basement, that can look like a secret path where one can find some hidden treasure? Now, create your modern wine cellar in the basement. A round staircase will be a perfect touch for your secret stash design. You can restore the old glory of your basement wine cellar this way too.
Gorgeous Wine Room
Now, this can be a perfect option for those who have square feet of property with huge modern halls. Create a stunning wine room in your home. Keep the décor and aesthetics modern and upbeat. Complete and complement it with the perfect wine cellar furniture. You can go for glass walls and doors as that will offer you a chance to showcase your wine cellar in its glamour while your guests can get to see what you have in there. You can take a guest or two inside the wine room too. Sit and take a sip while indulging in some lazy evening leisurely pursuits.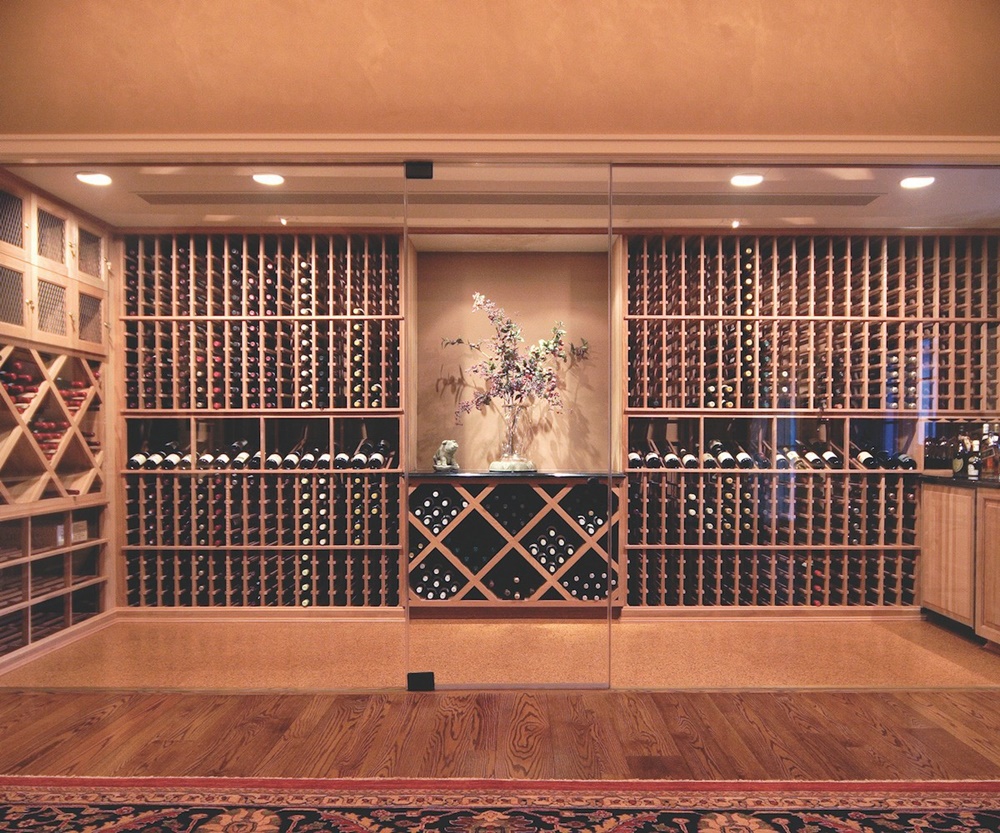 Spanish Style Wine Cellar
Are you planning for a country house wine cellar, a place where you can go for a weekend visit and spend some time there sitting beside the fireplace and drinking amazing wine? Then go for Spanish style cellars. Light hued walls, Moroccan tiles on the floor, wooden racks, chairs and table in the cellar, a heavy ingrained wooden door, this will create the perfect magical appeal for your home wine cellar.
Mediterranean Wine Cellar
Get transported to a different place easily. The Mediterranean wine cellar will make your home a heaven for an oenophile. This style will include a wine cellar with dark wood vintage functional décor with a wine tasting arrangement that will transport you and your guests to dreamland for all wine lovers.
Narrow Wine Cellar
Maybe you have a very limited space in your apartment or condo and yet you have a bigger collection that will need bigger space than just a wine cabinet. For that, you can go for narrow wine cellar design. You just need to talk to your architect and wine cellar designers. Tell them what you are looking for. Let them find the suitable place in your home that they can use for the narrow space-saving design of the wine cellar. And get ready to welcome the touch of class and sophistication that is essential for the house of an oenophile.
A Cellar with a Barrel Sink
Being a wine lover, you must have always dreamt of having a wine cellar like those in Tuscany, Italy vineyards. You might have thought of storing wine in barrels at the cellar while you can pour a cup to enjoy the aroma and taste. Now, how that can be possible in America? Well, anything is possible if you can use some imagination and creativity. Go for a vintage wine cellar design with a barrel sink. The tap will let you fill the cup of wine anytime you want. Enjoy the taste while looking at your yards. Surely, it will feel like the beautiful wine region of Tuscany in spirit.
So, what are you waiting for? Choose any design for home wine cellars and make a remarkable impression on your guests.